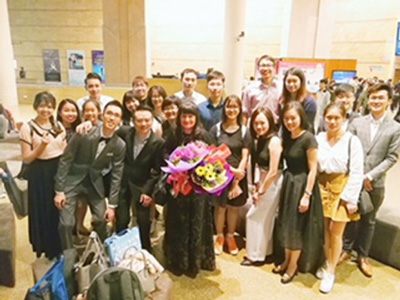 Pianist Alicja Fiderkiewicz was invited to Singapore again to perform at the Esplanade on 30/1/18.
The evening concert started with Bach's Italian Concerto. Alicja handled the Italian Concerto expressively, especially in the second movement. It was voiced excellently with lucid independent lines...the first and last movements were technically flawless. The Presto was played agilely in a dance-like manner... unlike many pianists who might approach it at a breakneck speed which is uncharacteristic of Bach's style.
The ten variations by Beethoven were delightful and a joy to savour...Exquisite touch and astonishingly imaginative.
The Prelude, Chorale and Fugue is a monumental work by Franck, which requires maturity and technique... Alicja's playing radiates strength and deep awareness of the composer's intentions. She possesses a wonderful command of the overall architecture grandeur of a large scale work.
After interval, Alicja was joined by two young pianists, Sean Teo and Toh Xin Zhan, playing Rachmaninov's six hands piano works. The Waltz was limpid, colourful and lively...wonderful ensemble playing...The Romance was thoughtful, serious and elegantly controlled throughout...sonorous bass lines, with careful voicing by Sean...the middle section was well balanced and coloured by Xin Zhan...and the top registers always crisp and cantabile in tone quality.
Nowadays, it is rare to listen to the music of Paderewski on concert stage. Alicja gave us a rare treat of two beautiful works by Paderewski. The Nocturne was beautifully presented by Alicja...excellent control with subtle tempo rubato, long cantilena lines...
The Minuet was very popular with all Leschetizsky pupils, thanks to Madame Essipoff's playing, who was also the first to play the Minuet in public. Alicja played it gracefully and charmingly, wowing the audience... reciprocated with thunderous applause.
The concert ended with a couple of works by the greatest polish composer, Chopin, also a fellow countryman of Paderewski.
The four Mazurkas Op 24 were charming, and wonderfully interpreted...The Berceuse Op 57 is a question of tone colour; therefore it is necessary to approach it through the ear and the imagination. A basso ostinato in the opening contains the tonic and dominant follows by a four bar theme that is subjected to a number of variations. Alicja played it beautifully which is akin to some of Chopin's Nocturnes. The last item was Ballade in F minor, which is considered to be one of the finest among Chopin's large scale works. Alicja was imaginative with the flexible main subject, which is calm...not easy to maintain the floating musical shape and intensity for many pianists...she was able to play the strenuous coda at ease...ending with four emphatic chords...
After a wonderful finale, the audience's clamouring for more was generously reciprocated. Szymanowski's Prelude and Schumann's Traumerei were encore pieces, especially the latter, was befitting to send us to our own dreamland.
Soh Simon
(click on an mage to see a larger version)