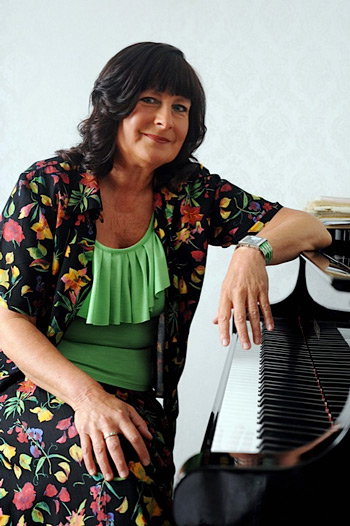 Born in Warsaw, Poland, the young Alicja Fiderkiewicz's outstanding musical talent was recognised at the tender age of 3 by her elder sister's piano teacher who, upon hearing her play, immediately spotted Alicja's tremendous potential. She saw Alicja's passion for music and at the age of 7 Alicja entered Karol Szymanowski's School of Music in Warsaw and began studying the piano in the class of Prof. Krystyna Bocianowska.
Two years later Alicja was accepted into the Central School of Music attached to Moscow's Conservatoire. There she was taught by Prof. Tatyana Evgenevna Kestner. During 6 years in Moscow Alicja also played in front of Tatiana Nikolayeva, Sviatoslav Richter and Emil Gilels.
Upon returning to Poland Alicja continued her musical education in Karol Szymanowski's Lyceum of Music in Warsaw under the guidance of Prof. Wanda Losakiewicz and Prof. Zbigniew Drzewiecki.
During the subsequent 4 years in Warsaw Alicja won Polish National Bach and Beethoven Competitions, and she also won Chopin's Scholarship for 4 years in succession, the success of which gave her a number of engagements throughout Poland and major venues in Warsaw, including Royal Lazienki Park, Chopin's birth place - -Zelazowa Wola, Ostrogski Palace and Warsaw Philharmonic Hall.
Having graduated from Warsaw's Lyceum of Music with Distinction, Alicja decided to continue her studies abroad. She entered Royal Northern College of Music in Manchester, UK in the class of Polish pianist, Prof. Ryszard Bakst. Within 3 months of entering RNCM Alicja was awarded a scholarship for the rest of her 5 years undergraduate studies and further year as a post graduate student. Prof. Bakst was to have vast influence on Alicja's musical development especially that of her sound, which has been described by some critics in her Chopin recital CD as "a sound of exquisite beauty".
During her studies at the RNCM Alicja won a number of college and outside awards and concerto competitions and represented her college in many concert venues across the UK. She participated in number of masterclasses, including performing Ravel's "Gaspard de la Nuit" for Prof. V. Perlemutter. She graduated with Distinction in both performing and teaching.
Throughout her career Alicja appeared with number of major orchestras - The Halle, Da Camera, Manchester Camerata, La Scala in Milan, Warsaw National Philharmonic,
Polish Radio & TV and many others and worked with number of conductors including Frank Cliff, Jacek Kaspszyk, Marek Pijarowski, Kenneth Page, Owain Orwell Hughes, Pierluigi Urbini.
Alicja is a winner of Dudley International Piano Competition and bronze medalist in the Premio Dino Ciani International Piano Competition in La Scala, Milan, where her performances were highly praised by Martha Argerich, Fou T'Song and Italian critics, who wrote "AlicjaFiderkiewicz is a young Polish pianist, whose authority and domination at the keyboard, technical resources, and excellent musicality show her to be a superb musical talent and promise for her most radiant future".
Alicja is also a recipient of Calouste Gulbenkian Fellowship.
Alicja has performed widely throughout the UK including number of recitals in the Wigmore Hall, St. John's Smith Square, St-Martin's-in-the-fields in London. She has performed in Manchester, Isle of Man, Liverpool, Birmingham, Edinburgh, Glasgow to name a few. As well as performances in the UK Alicja has performed concertos and recitals in Poland, Russia, Ukraine, Israel, Italy, Switzerland, Cyprus, Spain, Finland, Japan, USA, Singapore & Malaysia.
For a number of years, Alicja took some time - out from stage and regular performances but continued her work as a member of keyboard department at Chetham's School of Music in Manchester, UK. Since returning to the stage Alicja has reestablished her career as performing and recording artist.
She is frequent faculty member and performer at the prestigious International Summer School for Pianists at Chetham's, Manchester and she is often giving masterclasses in the UK and abroad and has also been a jury member on number of competitions.
She has appeared on BBC Radio and TV as well as on some local radio stations. There are 4 highly acclaimed CD's on Divine Arts label.
Charitable performances and commitments to various worthwhile causes form part of Alicja's career, notably MacMillan Cancer Relief, MacMillan Nurses, Cancer Research, The Heart Foundation, Eden Animal Refuge, The 2004 Indian Ocean Tsunami, Save the Children,d Japan Tsunami Relief and in addition, raising funds to support various churches and historical buildings in the UK and abroad.