FANFARE July/August 2015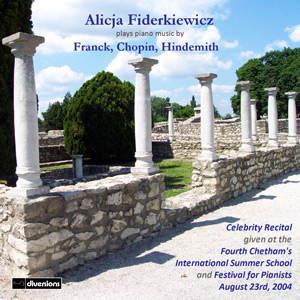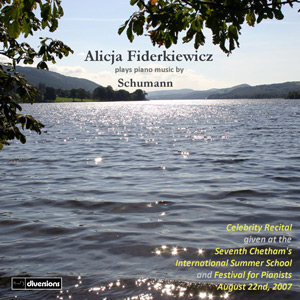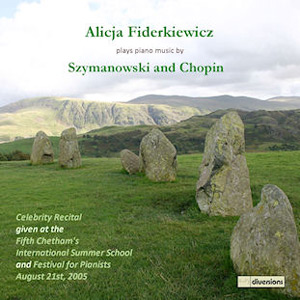 The pianist Alicja Fiderkiewicz was born in Warsaw. She began her studies at the age of three, before being accepted into the Karol Szymanowski School of Music at the age of only seven. After her family moved to Russia, just two years later, she enrolled in the Central School of Music at the Moscow Conservatory, where she took lessons with Tatjana Kestner, a pupil of Alexander Goldenweiser and teacher to Andrei Gavrilov. During her years in Russia, she played for such luminaries as Sviatoslav Richter and Emil Gilels, as well as participating in master classes focusing on the music of Bach held by none other than Tatiana Nikolayeva. Fiderkiewicz eventually returned to her native Poland to continue her education, before finally moving to Manchester, England, to study with Ryszard Bakst: Fiderkiewicz especially enjoyed his performances of Chopin's mazurkas, one of the foremost reasons for her choosing to study in England rather than in New York.
She now gives recitals spanning the entire globe—everywhere from Russia, Japan, and Switzerland to Spain, Great Britain, Israel and more—and teaches, both privately and in master class settings. And it is easy to see why she continues to perform so widely and holds the attention of so many of her listeners: She commands a varied tonal palette, has a wide interest in diverse composers, and perhaps most importantly, has that one quality which is most difficult to pinpoint—good taste.
While each of these discs may be marred ever so slightly by the occasional fingerslip found in normal live concert settings, it is remarkable just how few are found in these three separate recitals recorded over the span of a few years. It is perhaps in the first disc that these slips are most evident, yet also most inconsequential: What kind of Schumann would we have with no risk-taking? Throughout the recital Fiderkiewicz maintains a lovely tonal sheen, a fine rhythmic clarity, while always differentiating well between the opposing characters of Eusebius and Florestan. Perhaps the only thing really missing is fervency. This is Romantically-inclined playing, though perhaps not quite manic enough for my taste—I think of Horowitz or Richter in the Humoreske, Gilels in the sonata, or Cortot in Kreisleriana for their slight stretching of the impassioned melodic phrases, their holding of the tense moments just a second longer than one expects, or their explosion of dynamic and rhythmic momentum at those key points in pieces.
The second recital, featuring Franck, Chopin, and Hindemith, sounds like a strange combination. At times it takes a moment for one's ears to adjust to the differing harmonic languages of each of these composers—but what a lovely recital from beginning to end when they do! The Franck has hardly ever sounded as original as it does in Fiderkiewicz's hands; at times it seems almost as though she were making up the music on the spot, so supple is her phrasing, so improvisatory a character can she create. But what follows is equally enthralling: her Hindemith! Her playing here is filled with power, with drive, even sweep; in her hands Hindemith's music sounds as new as the day it was written, almost like computer-music of the future!
The pianist shows herself the true virtuoso in the final recital, featuring the music of Poland's two most famous composers, Chopin and Szymanowski. She easily negotiates the numerous hurdles in this music, from the Impressionistic-sounding swirls of notes found in Szymanowski's Masques to the final climactic coda in Chopin's F-Minor Ballade, the latter reminiscent of Richter in its overall power, its tonal charm, and in the employment of one of that pianist's quirks: his holding of the low C-octave right through the fermata rest at the beginning of the coda.
Recorded in excellent sound, Fiderkiewicz is the type of artist who proves that one's interpretations do not have to be eccentric to be great; rather, she takes the route of eloquence, of subtlety, of a healthy personal connection to and reflection of this music. And it pays off in spades. These are performances to be lived with and cherished.
Scott Noriega